Fitzgerald's Bureau of Investigation
Smith's world is as wacky as Nicola Barker's, but much funnier, less disquieting. Perhaps the Evelyn Waugh of Decline and Fall comes closer – She is a great snapper-up of unconsidered trifles – Wicked! Time Out
"Imagine a satire on Cool Britannia made by the Coen Brothers… This very funny book makes you wonder how it is done." Times Literary Supplement
"This is a novel in which the ordinary and the unusual are constantly juxtaposed in various idiosyncratic characters – Its airy quirkiness is a delight." The Times
ALISON WONDERLAND
Private detective Alison Temple spends her days working undercover in offices and her evenings shadowing unfaithful husbands. Then one day, a beautiful client shows up and turns her life upside down. So far, so noir. But this is no ordinary detective story…
Meet Mrs. Fitzgerald, Alison's boss at the all-female Fitzgerald's Bureau of Investigation in London who assigns her a "Top Secret" project while hiding secrets that could endanger them both. Meet Alison's adorable poetry-writing neighbour, drumming monks, a witch, a shig—"the fattest, woolliest animal on earth, the product of a union between a pig and a sheep"—and a psychic postman. Follow the quest to find an abandoned baby that takes Alison on a road trip to the seaside with her new best friend, Taron. And find out who she falls in love with, and how that love changes her life.
Clever, quirky, and infused with just a hint of magic, this humorous literary novel introduces a memorable heroine who can turn the everyday into a dazzling surprise.
"The dialogue is smart and the deadpan humour is perfectly judged." The List
BEING LIGHT
When Roy Travers doesn't come home, his wife hires a private detective to find him. But Being Light is no ordinary detective story. The sharp observations on the lives of modern women will have you laughing out loud as you follow the surreal adventures of the ensemble cast.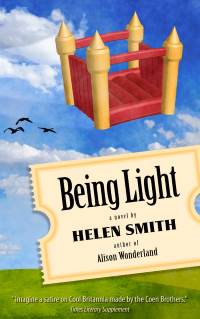 Meet Taron, with her one-woman plan to improve the world. Meet Mrs. Fitzgerald, the boss of the all-female Fitzgerald's Bureau of Investigation in Brixton, as she struggles to overcome fanciful thoughts on the 159 bus. Meet Alison, juggling the demands of looking after a young child with her duties as a detective. Take in circus performers, animal rights activists, philosophers, dreamers and a new kind of dating agency in this joyfully funny book. And find out what happened to Roy.